Merry christmas! here are your spotify wrapped graphics!!
I've been loving the blog formats on the mit admissions blog and I was inspired to make graphics comparing my friends' listening habits just like this post.
Let's go!
look at justin! 75k minutes listened. that's on avg 3.5 hours per day!
20k minutes is 1.5 hours a day! or 9% of waking hours.
I thought I would've listened more than my average time per day, but that's because some days I don't listen to music.
This is how much we listened to our favorite artist. It's a nice exponential looking graph.
I think the main way I've been finding new artists is from Discover Weekly and searching up keywords of my mood and context to find playlists.
Some people go broad and some people go deep. I want to branch out from soft sounding music and find new genres I like next year.
"You right next to me, feel the heat, goin' overdrive!"
Wrapped Summaries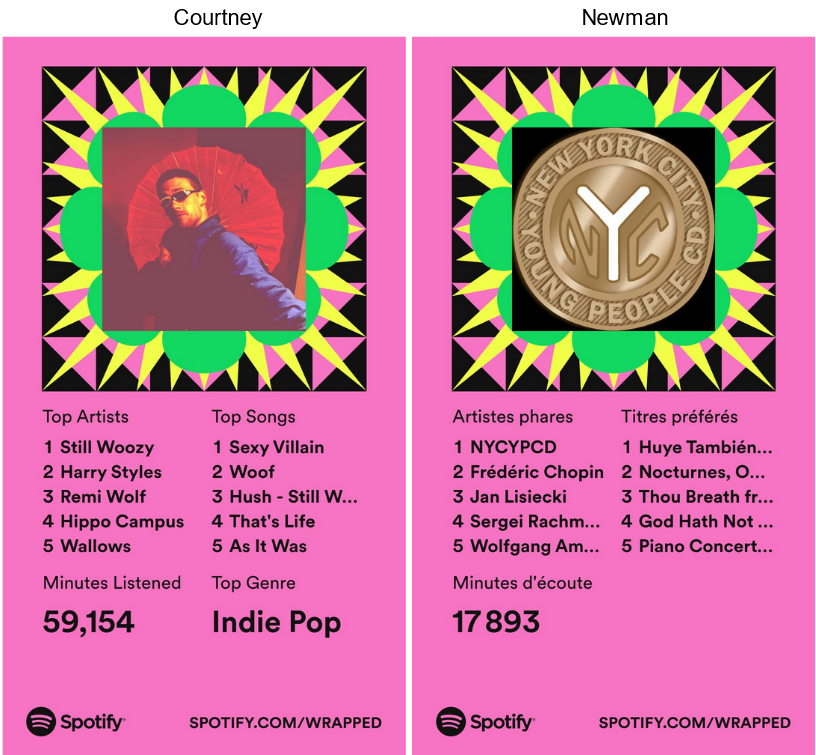 Courtney: I enjoyed my Spotify wrapped!
Newman: Mm seems about right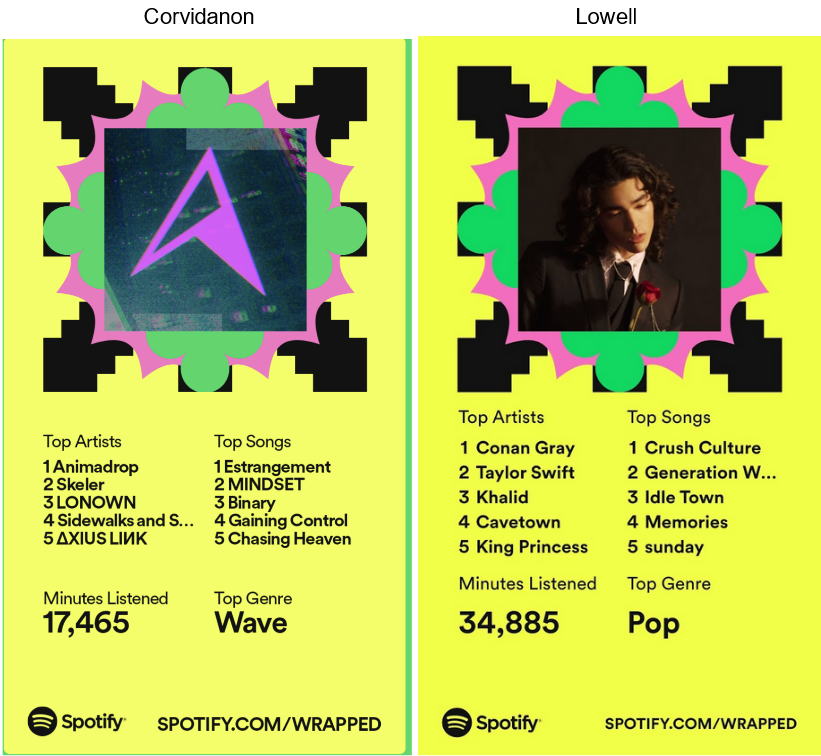 Corvidanon: Delighted
Lowell: I'm honestly surprised that Conan Gray dominated my most repeated songs. I thought I listened to many songs on repeat, but it turns out I played Conan Gray on repeat the most in that one week in July when I was thinking about identity and being sick in bed.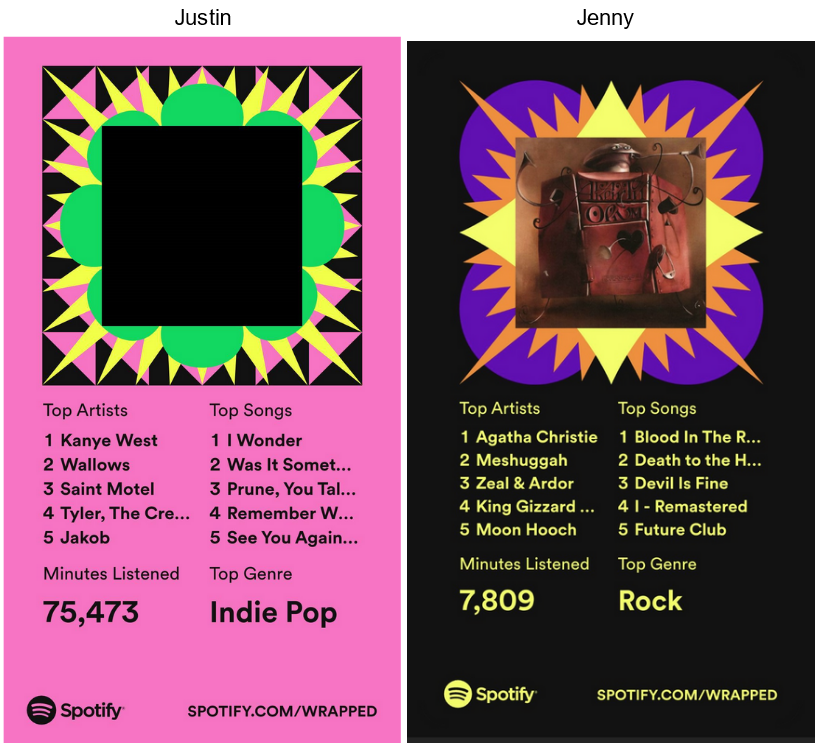 Jenny: My listening is pretty scattershot! The top stats are dominated by the 3 times I made playlists this year and so listened to stuff on repeat.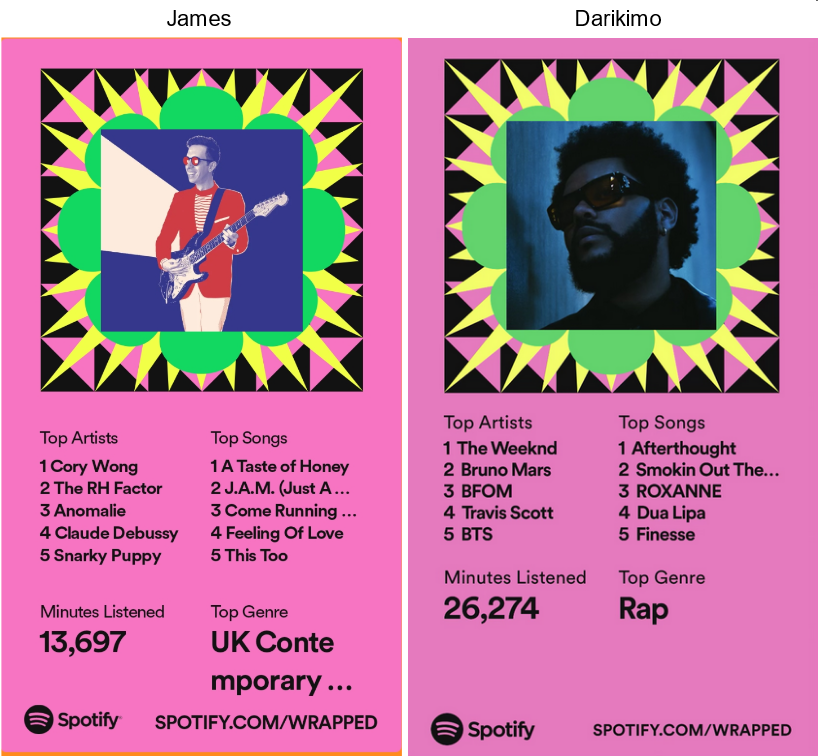 James: Im real
Top artist percentages
Courtney: top 0.05% Still Woozy
Justin: top 0.1% Kanye West
Corvidanon: top 0.5% Animadrop
Darikimo: top 0.5% The Weeknd
Lowell: top 0.5% Conan Gray
Newman: top 2% NYCYPCD
Jenny: top 2% Agatha Christie
James: top 3% Cory Wong
Top genres
Lowell: Pop, Indie Pop, Rap, Indie Folk, ROCK
Courtney: Indie Pop, Pop, ROCK, Modern ROCK, and Rap
Newman: Classical + christian
Corvidanon: Wave, edm, rap, traprun, drift phonk
Justin: Indie Pop, Pop, Lo-fi Beats, Rock, Rap
Jenny: ROCK, post-doom metal, electropop, alternative metal, modern alternative rock
James: UK contemporary jazz, lo-fi beats, indie soul, jazz fusion, modern funk
Darikimo: Rap, Pop, K-pop, Adult Standards, Underground Hip-hop
Indie Pop is the top genre of three people! and Rap shows up five times.
Listening personality
The Early Adopter: Courtney and Lowell
The Adventurer: James and Corvidanon
Fidèle au poste (was in french sorry, something like loyal): Newman
The Maverick: Justin
The Time Traveler: Jenny
The Connoisseur: Darikimo
Podcasts
Courtney: Two Hot Takes, Tales, Office Ladies, Ologies with Alie Ward. 5650 minutes
Lowell: 80000 hours, Conversations with Tyler, Anything Goes, Sounds Fake But Okay, 544 Days. 2492 minutes
James: Philosophize this. Who knows it doesnt say but id guess 300-1000 mins
Darikimo: The Numberphile Podcast; Brain Science: Neuroscience, Behavior
these look like good podcast suggestions!
Wow I'm really proud of you guys this year! cheers to more rockin!!
(I got a feeling of deja vu from writing this post. feels like I've done this before with many many graphs and lines of words in between)
I think I've gone a long way at finding music I enjoy. In 2020, I didn't listen to music much because I didn't really know good songs. Then, I started noticing when I liked a song that was playing in public, and pull out the Shazam app on my phone to see what the song was and add it to my playlist.
I started making a playlist every three months, named after the season we were in, and add songs I liked in that playlist. Now I have a chronological record of music I enjoyed in different time periods in my life!
I think music made quite a difference to me this year. I have been having a hard time and it felt good to find a new song that I liked or replay a song in the right moment.
I think I still want to expand more music taste going into next year, and I think listening to playlists made by people that like different genres from me is a good start.
anyway, thanks for reading! I hope you all are enjoying the festive cozy feels!